If you love fast-paced action, smart, funny, wise-cracking characters who may have to risk everything for
true romance, sizzling sexual tension and mind-blowing lust… you've come to the right place.
Prepare to escape, learn, have fun, and journey to the worlds of artists, ranchers, executives, and assassins, all of who have one
thing in common; they are about to have their lives turned upside down, smacked around, and thrown in the pressure cooker.
Learn what over one million fans already have, devouring an M. J. Roberts book is delightful and addicting.
You'll find memorable characters
you'll fall in love with, an exciting plot, and a blazing need.
Insert yourself into the story, add a thousand degree heat, and stir.
Go on – Immerse yourself in the complex lives of gritty characters who bravely face
their own inner battles, conquer all obstacles, and learn to love again.
These stories restore your faith in goodness and the power of love to triumph over all.  They'll stay with you long after
you've finished reading and you'll want to read the stories over and over again.
Enter a world where the true of heart can be victorious.
Visit Our Blog and Page Find Out Daily Inspiration Quotes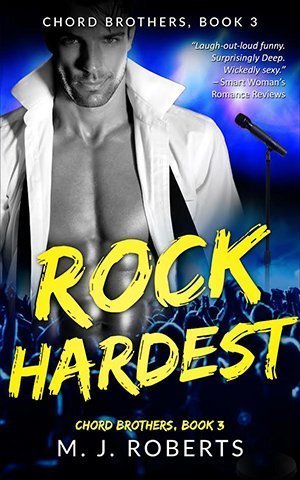 Book 3 Rock Hard : Chord Brothers
Author: MJ Roberts
Drummer Ryder avoids feelings since the tragedy. Now Lexi tests his reserve and sanity. Rule #1 of bands….
Price: $4.99